AN IDEAL CITY
A research and exploration into
the potential of dance as public art
rooted in the urban tissue of
Athens, Reggio Emilia and Brussels.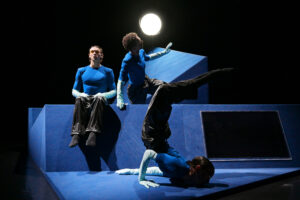 An Ideal City is the result of a collaboration among three leading institutions in the European dance scene:
Fondazione Nazionale della Danza / Aterballetto – Reggio Emilia, Italy

Les Halles de Schaerbeek – Brussels, Belgium

Greek National Opera – Athens, Greece
With an overall duration of 22 months, specifically from October 2020 to July 2022, the project is co-funded by the Creative Europe programme of the European Union (call 2019) which aims to support the European cultural and creative sector.
The project aims to apply the historically consolidated functions of public art (enhancement of a site, creation of a shared and socially transversal rituality, affirmation of a wide and symbolic accessibility of art) to three European urban landscapes – Athens, Reggio Emilia and Brussels – that are deeply representative, both historically and symbolically.
More concretely, with An Ideal City the three Institutions aim at:
At the artistic level, the stated objectives are translated into the creation of MicroDances: short performances, lasting 6 to 10 minutes, designed for 1-3 dancers and for a micro space commissioned to artists from very different backgrounds and inspirations to enact a choreographic landscape that is as rich as it is varied.
The Scientific Committee of An Ideal City is composed of three curators who are getting involved in the project's overall design, its interdisciplinary dimensions and various urban applications. Taking care of the relationship between dance and public space, they will coordinate the re-enacting and the re-staging of the performances in the three cities.
The curators are: Costanza Meli in Reggio Emilia for Fondazione Nazionale della Danza / Aterballetto, Pauline de La Boulaye in Brussels for Les Halles de Schaerbeek, and Nadja Argyropoulou in Athens for the Greek National Opera Ballet.
Costanza Meli, art historian, lecturer and independent curator, born in Palermo in 1979, lives and works between Fontecchio (AQ) and Rome. In 2007 she founded, together with Barbara D'Ambrosio, the association Isole (Palermo), of which she is president and co-curator. With the association she realizes a research path that connects the themes of public art to the culture of the territory, intended as material, landscape and immaterial heritage, which is linked to the memory of places and their narration.
From 2011 to 2013 she participated in the project of constitution of the Museum of Migration of Lampedusa, coordinated by Prof. Giuseppe Basile, at the Municipality of Lampedusa: project dedicated to the collection, study and preservation of objects belonging to migrants and found on the island.
She is a consultant in the projects of the DGCC of the Ministry of Culture: Art in public spaces, for the website "Luoghi del contemporaneo" (2019) and Arte e spazio pubblico (2021), organized by the Foundation School of Cultural Heritage and Cultural Activities and DGCC.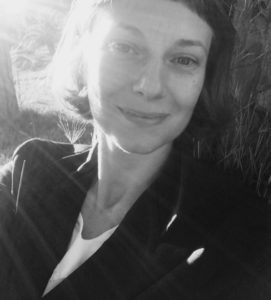 Pauline de La Boulaye studied history and social sciences. Since 1998, she has curated exhibitions, artistic projects and missions for museums and cities as well as for private and corporate foundations. She has worked with international art and architecture reviews and gives conferences at higher education institutions.
An independent curator, she produces urban art projects. An author, her research and publications question links between people, arts and the city. She has recently co-edited two scientific volumes about arts and the city based on participatory processes:
• Inventaires #3 Architectures Wallonie-Bruxelles, Fédération Wallonie-Bruxelles, 2020
• Being Urban, pour l'art dans la ville, Bruxelles, Iselp – cfc éditions, 2016
Nadja Argyropoulou is an independent curator.
She holds a BA in history and archaeology (Kapodistrian University, Athens, GR) and an MA in art history and theory (Essex University, UK).
She has cooperated with a large number of cultural institutions, museums and art entities, both private and public, and curated exhibitions and interdisciplinary projects in Greece and abroad. She researches creative ecologies, anarchy, exo-urban living and emerging intersections of aesthetics and politics. She is a founding member of the collective "Saprofyta". She has written reviews and texts for books, solo and group exhibitions and art related publications.